Myanmar is leading to modernization and trying the best for international services. As so, it also extends the airlines throughout the country and around the world, offering best customer services and sophisticated airline management on the ground and in the air. Moreover, the airlines in Myanmar are in running an enhanced website and reservation system. Here is a list of airlines.
International Airlines
Myanmar Airway International ( MAI )- India, Singapore, Thailand, China )
Air KBZ ( Sister airline with MAI )
Myanmar National Airlines ( MNA )-India, Singapore, Thailand, China
Domestic Airlines
Myanmar National Airlines
Air KBZ
Manyadanarpone Airlines
Golden Myanmar Airlines
Air Than Lwin ( former Yangon airlines )
Asian Wings Airline
Myanmar National Airline (MNA)
The airline occupies the most extensive route network, flying to 28 destinations within the country. Moreover, it is the oldest and most experienced one in Asia, originally born in 1948 as UBA (Union of Burma Airways and flew to 19 domestic points. In 1950, the airline introduced the international services. In 1989, it is renamed as Myanmar Airways and added further international destinations up to 1993. The airline has now been reborn as Myanmar National Airlines and launched its upgraded domestic services in 2014. Now, it is running daily with a high standard of Safety and Security with the fleet of Boeing, Embraer, ATR and Caravan aircrafts. Its professional skillful pilots and well-trained staffs are the major attraction of the airline. Here is a link that Myanmar National airline saved dozens of lives.
Air KBZ
With the growing demand for air travel, Air KBZ also known as Air Kanbawza was established in 2010. It is a privately-owned domestic one by KBZ banks group and flying to 15 destinations of Myanmar. It is operating to provide excellent customer service through safety, comfort, hospitality, and enriching employees. It also occupies the certified and well-experienced team of captains and flight officers. The ATR72 aircrafts are flying in the skies, offering the superior value of service.
Manyadanarpone Airline (MYP)
Manyadanarpone Airlines is the first airline that has based its operation at Mandalay International airport, establishing in 2013. Mandalay is rich in the culture itself and there are many tourist destinations around it. So, the airline is very supportive to the tourists who are arriving at and departing from Mandalay. And it is trying to extend the route and now, is taking the passengers to 9 destinations in the ATR72 aircraft. The flight crews are all qualified and the cabin crews also hold instructor certificate and have attended the Airline Cabin Crew training course. It strives to offer a higher safety standards, better customer service, and more efficiency.
Golden Myanmar Airline (GMA)
The airline has been established as a public company limited to operate as a national airline of Myanmar in 2012. The GMA team is supported with the well-qualified management team and has a strong knowledge background in the aviation industry. All pilots have been trained at CAE training facilities and the operation team has vast experience in the airline industry. All the staffs are certified according to International Air Transport Association (IATA) and IATA Operational Safety Audit (IOSA) standard practice. The expert engineers and machinists are well trained and the machines are on modern and international standards. Safety, Security, and welfare of the customers are in its bucket list. The ATR 72 aircrafts are carrying the passengers in 12 destinations within the country with the best services and efficiency.
Asian Wings Airlines
Asian Wings Airline is successfully inaugurated in 2011 with professional and experienced staff. It provides flights to all major tourist destinations. They emphasize on highest safety standards and quality of operational performances and services. Its warm hospitality is attractive to its customers. It makes to ensures that they operate the safest, most efficient and reliable fleet with the expert pilots and knowledgeable service team. The ATR 72 aircrafts operate and are maintained with excellent engineers.
Air Than Lwin (former Yangon Airway )
Air Than Lwin Holding Company Ltd. was established in February 2014 and bought the shares of Yangon Airways Company, which has been flying over 23 years without any accident and incident. On the 1st October, 2019 Yangon Airways is renamed after its mother holding company's name –Air Than Lwin. Under a new brand name, Air Than Lwin resumes its operations and upgraded its services and performances. Its employees are highly qualified and experienced. It looks physically attractive and modern. Flying to 15 destinations, they are offering the best services with ATR 72 aircrafts.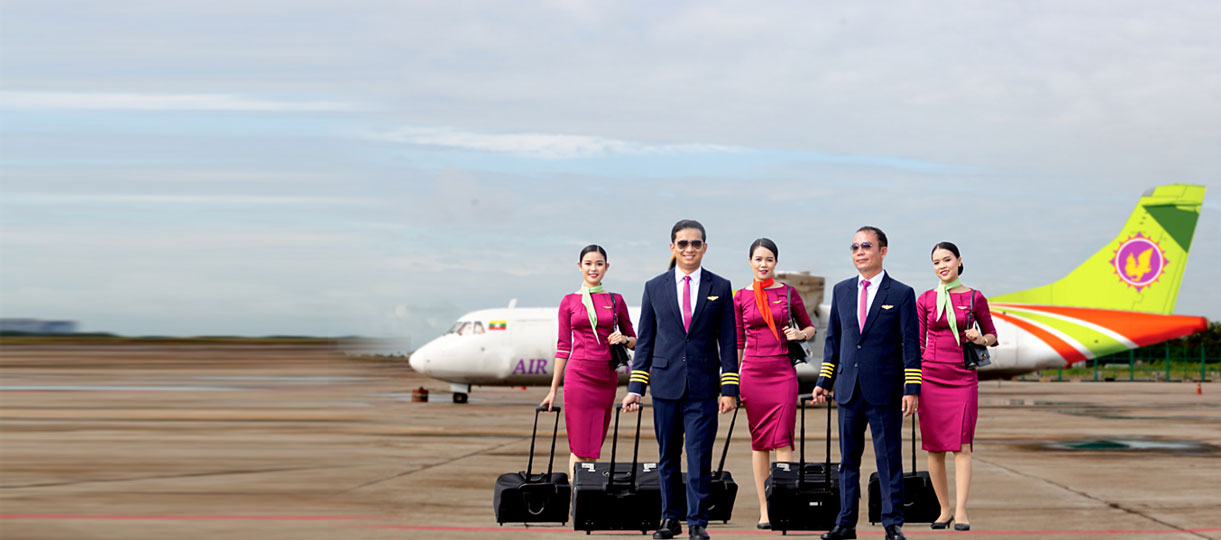 So, all airlines are running professionally and internationally. In 2012, Air Bagan crash-landed at Heho airport in fog. And, in 2019, Myanmar National Airlines' pilot had to land the plane without its front wheel, saving all passengers and aircraft without any injury. That is the only two obvious accidents occurring in 5 decades.  So, you don't need to worry to take a flight in Myanmar. The accidents are pretty rarely been seen and all airlines are in international quality standards with high technology services and sophisticated airline management. Why don't you join the flights to make your trip more effective and efficient?