2 Days/ 1 Night
I've been to many places around Myanmar, covering most of the must-see destinations. At the Beginning of 2020, my pretty first trip was to Bagan with my friend in February. That was a perfect trip and I really like it. And, in March, I was thinking to make second trip but I would like to make it different from my former trip. At the time, Hsipaw came into my mind because I've just read a book called Twilight Over Burma. It is written by Inge Sargent, an Austrian Woman. She married a Shan Prince of Hsipaw and returned to Hsipaw without knowing her husband is a prince of Hsipaw. So, It is about her life as a Shan Princess of Hsipaw. Because of the book, it is more likely for me to go to Hsipaw. For more information, I try on google and also ask my friends. When I heard from them, I came to realize how beautiful and pleasant Hsipaw is and also heard about trekking in Hsipaw. Finally, I decided to go to Hsipaw. But, for more fun, I took my friends. So, we are totally 8 on a group.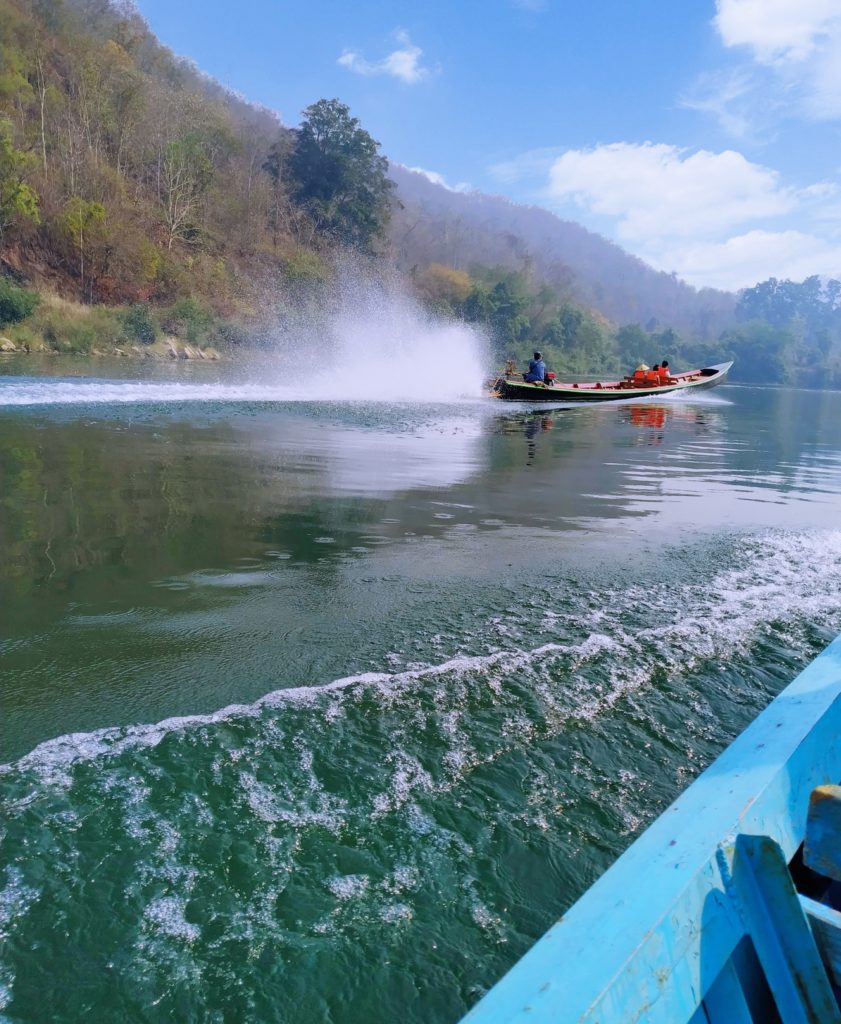 Day ( 1 ) Mandalay- Naung Cho- Naung Pein- Hsipaw
Drive to Naung Cho ( 3 hours )
Train from Naung Cho to Naung Pein ( 1 and half hours )
Drive from Naung Pein to Hsipaw and Pawkyo Pagoda( 2 hours )
Hsipaw Royal Palace and Sunset at Hsipaw
Drive to Naung Cho
We start early to drive to Naung Cho from Mandalay at 7:00 am because we would like to catch the train which leaves from Naung Cho at 10:30 am. And, it takes 3 hours to get to Naung Cho. We have to pass through Pyin Oo Lwin before Naung Cho. Around 10:00 am, we arrive at Naung Cho station. So, we find a place for our breakfast. Near the station is a local restaurtant. So, we ordered bowls of shan noodle for breakfast. My friends can't stop saying " Wow, it's delicious."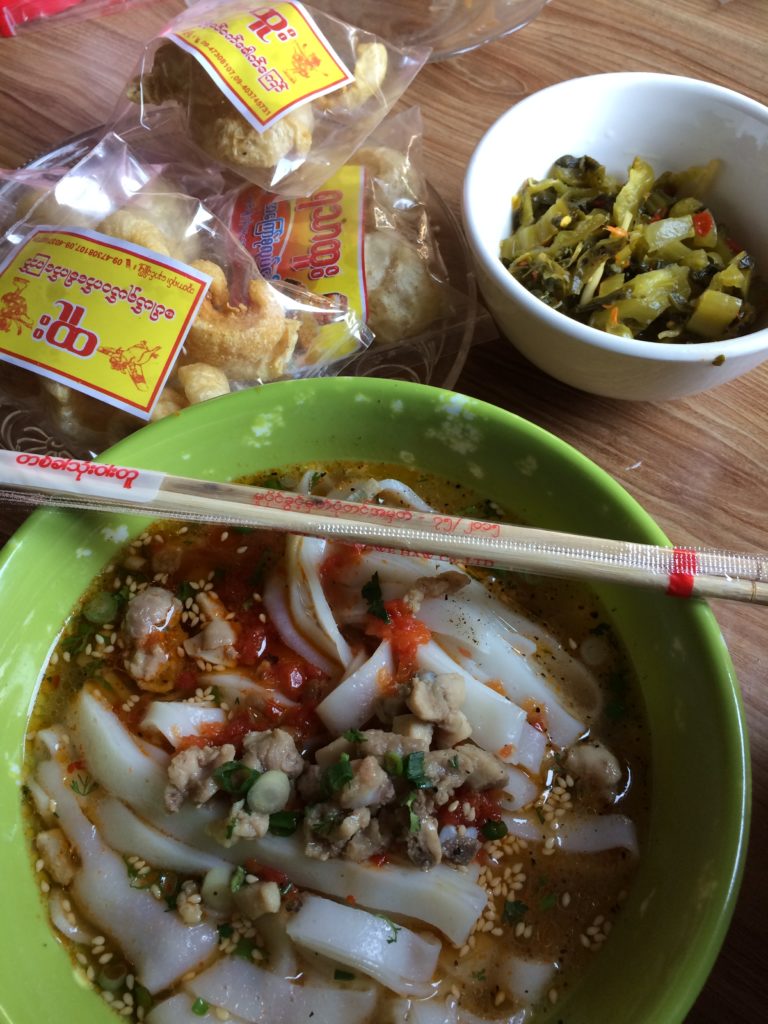 Train from Naung Cho to Naung Pein
After breakfast, we come back to the station and stay in queue to buy the tickets. 300 kyats both for local and tourists. One thing is your tickets are without seat because of the seat-free system of train. If you want to make sure to get a seat, you have to buy the tickets from Mandalay station. But, normally, you can get a seat with the people hop on and off at every station. Actually, we can drive straight to Hsipaw from Mandalay. But, we decided to take the train because we would like to get the experience of train riding, crossing the World Second highest Gokhteik Viaduct. So, we planned to catch the train from Naung Cho to Naung Pein and our driver will wait us in advance at Naung Pein station and drive us to Naung Pein.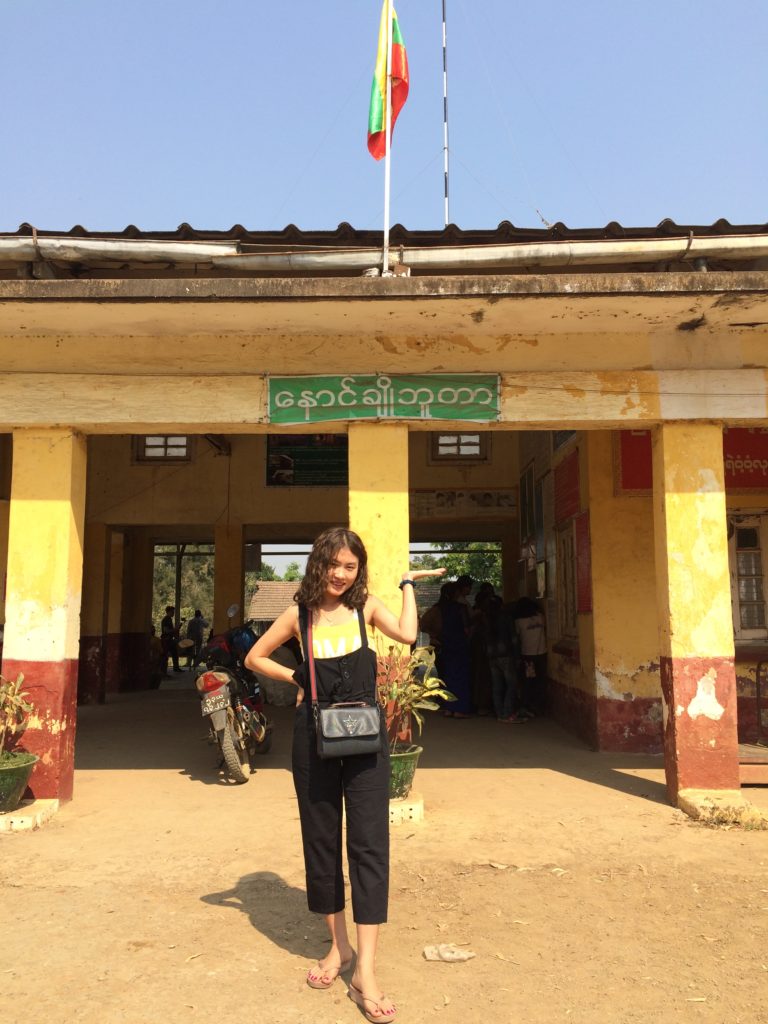 At 10:30 am, the train arrives at the station and we all hop on. Luckily, we all got seats but separately for four. The special thing for us is the train is jumping fast so that we are shaking. May be it is not too good but we are happy when the train is shaking. It is really nice experience. The vendors are also selling the food on the train. We bought corn on the cob and it's sweet. For tourists, train travel gives to immerse in the same line with local people. The train stops a while at Gokhteik station before passing the viaduct. When the train pass the World second highest Gokhteik Viaduct, it is wonderful and breakthing. When I look down, I see a river flowing below the viaduct. When I asked around, I know it is called Dothtawaddy River. If you are afraid of height, don't look down. The view looking through the window is so stunning with the cool breeze. It takes about ten minutes to cross the viaduct only. And, along the way to Naung Pein, we have to see the vegetable plantation. It is like a summer painting with the spring red and yellow leaves. The train arrives at Naung Pein around 12:10 in the afternoon. So, one and half hours to Naung Pein from Naung Cho.
Note: if you want to catch the train only along the viaduct, you can take the train from Gokhteik station to Naung Pein and it takes about 40 minutes. It is the shortest way to pass the viaduct. But, you need to be 100 % on time because it stops only about 2 minutes at the station.
Drive from Naung Pein to Hsipaw and Pawkyo Pagoda
We see our driver back waiting ahead at Naung Pein station and continue to Hsipaw. Before Hsipaw, we get to Pawkyo Pagoda around 1:40 pm and drop in. The pagoda is the most sacred one around Hsipaw. Then, we continue to Hsipaw, reaching there around 2:15 pm. So, we stop at a local restaurant and have lunch before hotel. We ordered rice and one meat curry for each but it comes with many side dishes and clear soup. Not only the dishes are so delicious but also I am hungry. So, I even have to ask the waiter for one more plate of rice. The price is also reasonable with 3000 kyats for each person. After that, we drive to hotel, Lily The Home and check in.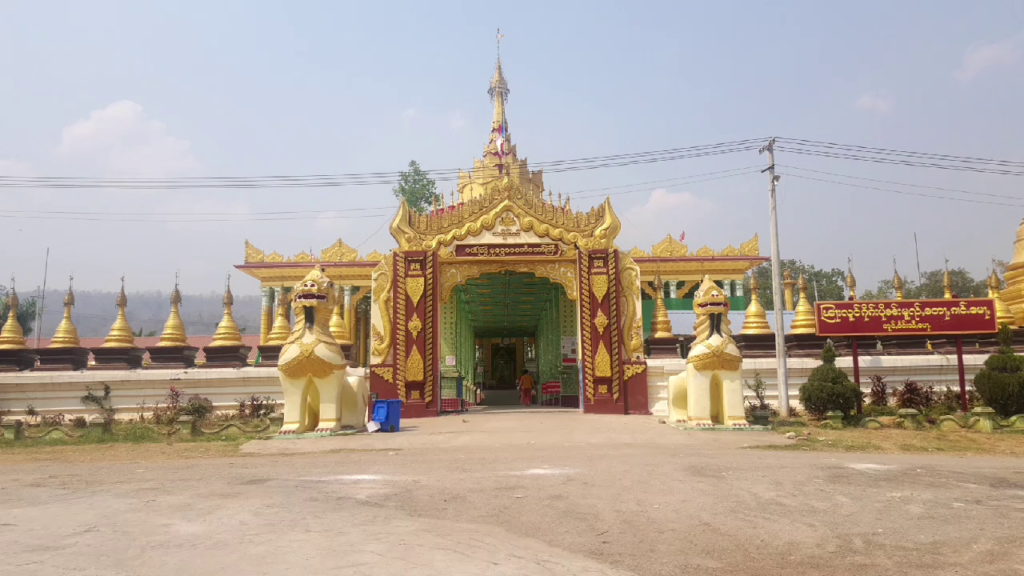 Hsipaw Royal Palace and Sunset at Hsipaw
After taking rest about half an hour at the hotel, we head to Royal Palace of Hsipaw Shan Princes. The palace is the one in Twilight Over Burma. The last Shan Prince and Princess lived here once. It has been nearly 100 years. Now, the niece in law of the last Shan Prince, Saw Sarm Hpong, has been watching the palace and explains about the history of Shan Prince and Palace. She is friendly and nice. There is a tourist couple, been in ahead. So, we listen together to her and it is really interesting history. In the house, you can see some interesting photographs and books about Shan Princes. No entrance fee for the palace but please donate some dollars for maintaining the house. We took the photo together with the Sarm Pong and say good bye to her and the couple.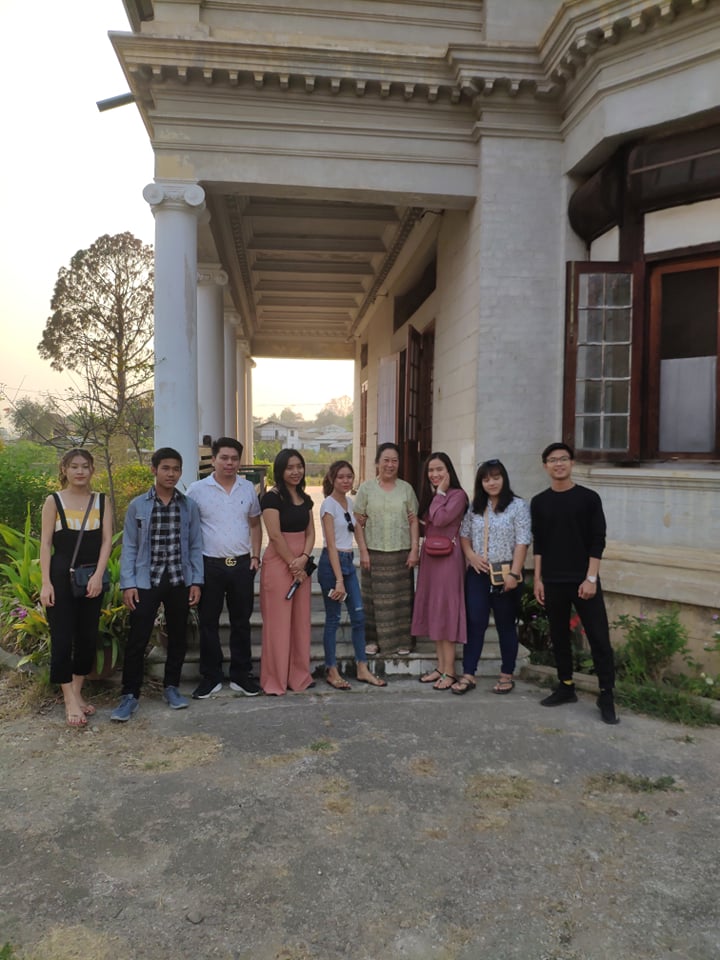 Then, head to Thein Taung, Sunset Hill. The hill is a little high but we drive up. We arrive at the top around 05:45 pm and the sun is starting to set. We see the bright yellow sun is setting, reflecting the Dothtawaddy River. Then, turn into red and slowly disappear behind the Shan mountain around 6:00 pm. It is so beautiful. After enjoying sunset, we drive down the hill. On the way down, we see the couple we met in the palace, is biking up the hill. But, the sun has already set. So, if you climb up the hill by bicycle, you need to get to the foot of the hill early because it takes about 5 minutes even for cars to climb up the hill. That's why the couple missed the sunset. After sunset, we enjoyed the dinner at a restaurant. Make some talks and fun with some wine, beer and barbecue.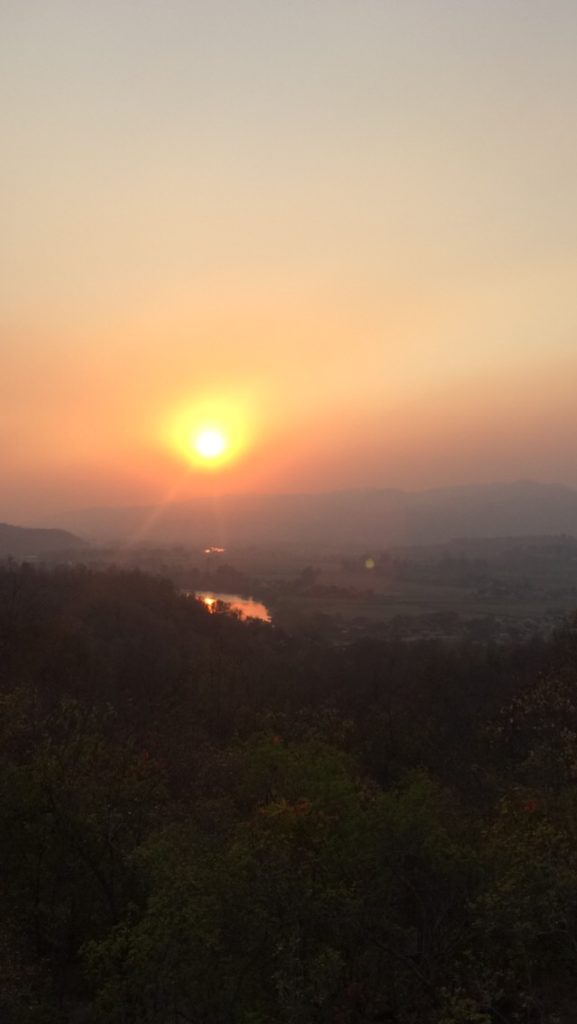 Note: The Hsipaw Shan Royal Palace is open only from 03:00 to 05:00 pm. And, make sure to arrive early at the foot of the hill not to miss the sunset.
Day ( 2 ) Boat trip along Dothtawaddy River, river confluence and trekking around Hsipaw
Upstream the Dothtawaddy (45 minutes )
Trek to Shan Monastery ( one hour )
Trek back and Upstream to river confluence ( 40 minutes )
Visit Shan traditional village ( one and half hour )
Downstream to Hsipaw back ( 30 minutes )
Drive to Mandalay ( 5 hours )
Upstream the Dothtawaddy
After enjoying the breakfast at the hotel, check out at 8:30 am. Our trekking guide, Sai, meet us and give lovely hats to all of us for trekking. And, he walked us to the jetty about 5 minutes and start a boat trip at 9:00 am. Dothtawaddy is so beautiful. We all get fresh with the cool breeze and water. The water is so clear that you can see the bottom of the river in some places. We say each other 'Hsipaw is more beautiful today. Oh! How pleasant!' Along the river bank, we see Shan villages facing the river. Everything we see along the river is delightful and fresh. After up streaming about 45 minutes, we arrive at the starting point.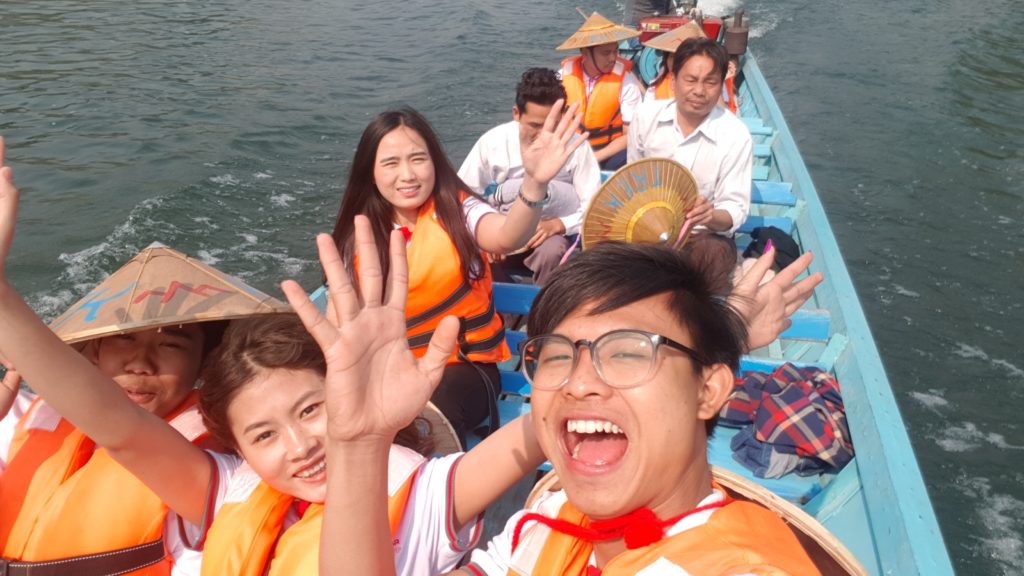 Trek to Shan Monastery
8 of us are very active and cheerful to start the trip and followe our guide. Seasonal vegetable and fruit plantations are along the way. We know about some plants but it became more interesting when our guide explains deeply. We can't help respecting him. He is so knowledgable, friendly and patient. He also loves his town and his Shan people. There are many interesting things for tourists along the way of trekking. But, I will stop talking about that, not wanting my blog too long. After 45 minutes' walk, we get a little tired and lay over about 5 minutes under a tree. Then continue trekking next 15 minutes and get to the monastery.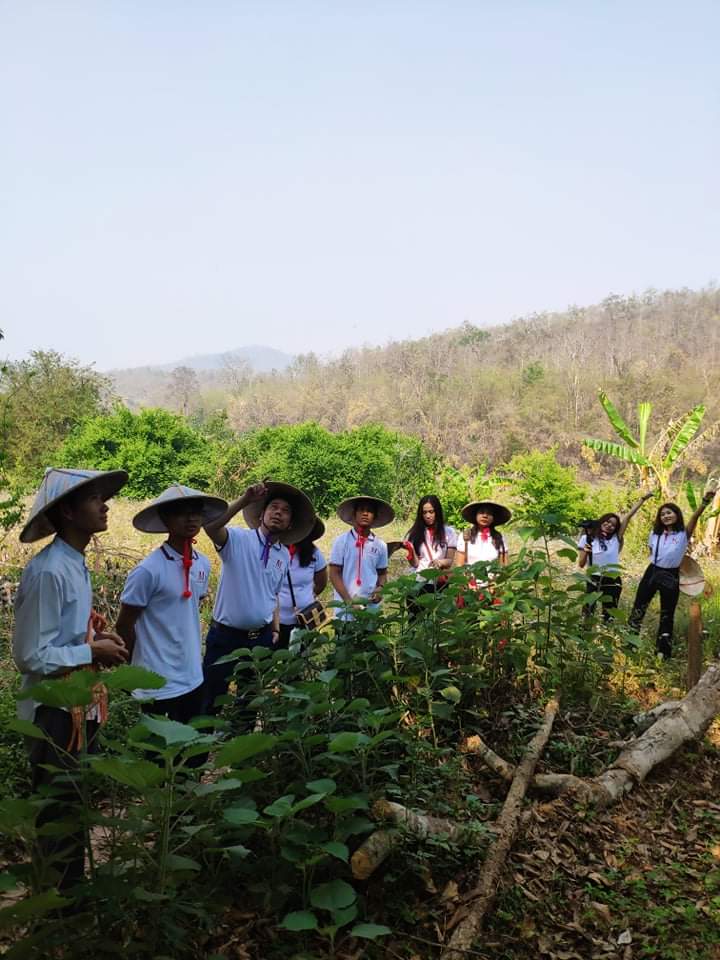 According to our guide explanation, this Shan monastery has been about 170 years and during the Second War World, four bombs were dropped on the monastery. But, none affected the monastery. The little novices host us with pineapple and green tea. We have to know many precious things with respect to the monastery. After an hour at the monastery, we donated some Kyats and trek back to the starting point. Although it takes about an hour to get to the monastery, we have to trek only 30 minutes for the way back.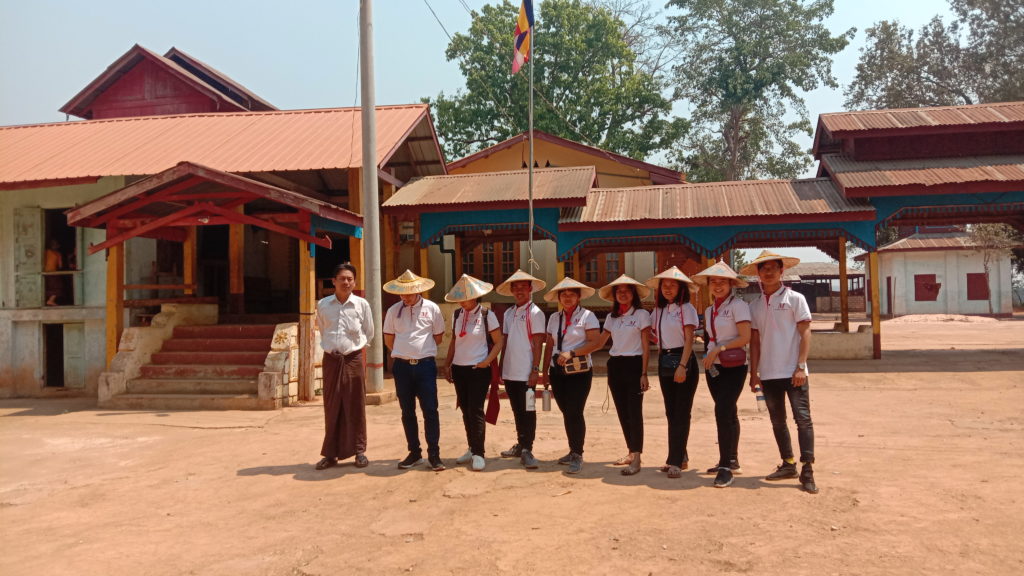 Note: We all like the trekking and our guide too much. But, I think it will be better in winter with more green scenery as much as the eyes can reach.
Upstream to river confluence
As soon as we get back to the boat, we continue up streaming to river confluence about 10 minutes. I can't express enough how beautiful it is. Here, Nammati and Nammatu rivers meet and flow together into the Dothtawaddy river. The thing I like the most about the river confluence is its cleanliness. I can't see any garbage. Not only the environment but also the water is so clean. And, it is an untouched environment but heard it is crowded during Myanmar Water Festival. There is only one restaurant on the river bank with the nicer view. We enjoyed the lunch and take relax there. And, you can also swim and sink at the river confluence. Two hours later, we downstream the Dothtawaddy to visit Shan traditional village.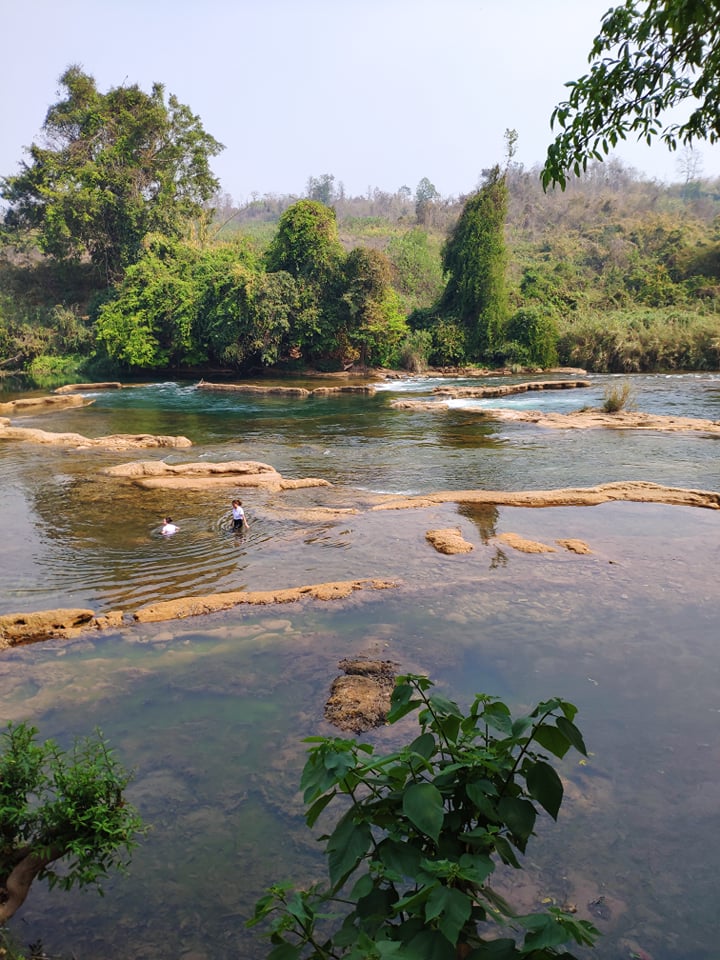 Note: Please bring more clothes to change after swimming and sinking. If you can't swim, you can use life jackets.
Visiting Shan Traditional Village
About 30 minutes later, we reach the village. The houses of the village are built of wood. These lovely houses can catch our eyes well. Such a clean and tidy village has a full of charming things. We spend there about 45 minutes and then downstream to Hsipaw.
Downstream to Hsipaw back
On the way back to Hsipaw, we sat on the boat in the dim sunlight of evening with relaxing talks. Such a peaceful experience! We arrive at Hsipaw around 5:00 pm. We walk back from the jetty to our car. On the way, we see a local shop which sells traditional Burmese drink called Shwe Yin Aye. So, we drop in and have each glass. It is sweet, cold and makes us fresh. And, then head to our car and say goodbye to our excellent trekking guide.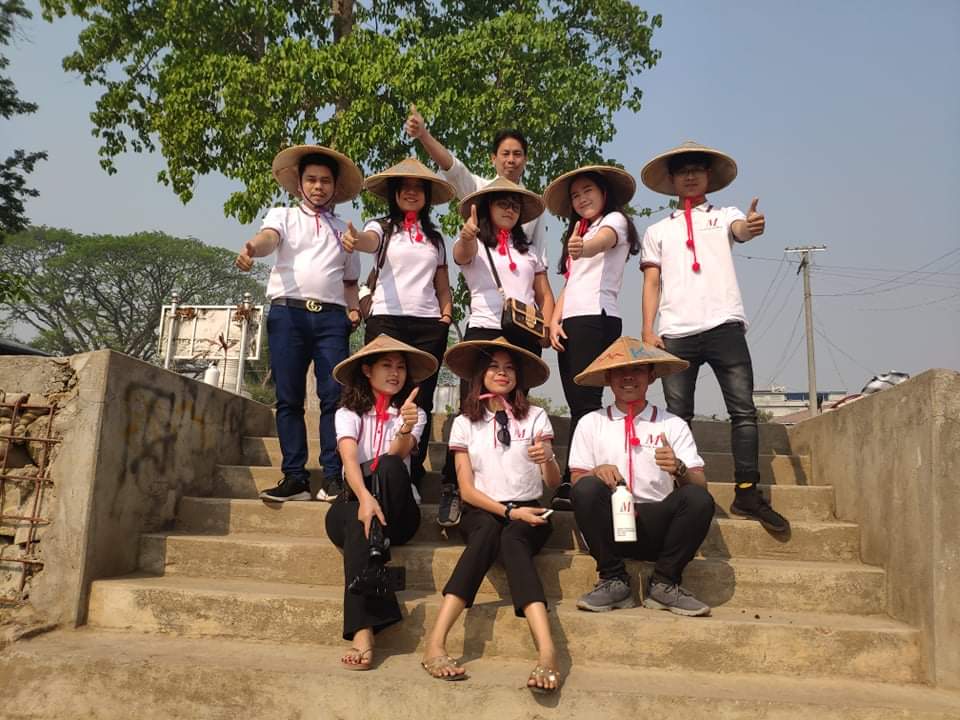 Drive back to Mandalay
Finally, we leave Hsipaw at 5:00pm and drive to Mandalay. At the beginning, we tried to catch to see the Goktwin, valley with snake-shaped roads, built by British during colonial time. We missed this on coming way because we took the train. We heard driving along this road is a wonderful experience. But, now, it's 5:00 pm and we need to drive 2 hours to get there. So, we can't catch it and take it easy to drive. When we arrive at Goktwin, it has been dark. But, lucky thing is that Goktwin is extremely beautiful with the lights from the trucks and cars in zigzag form. Around 9:00 pm, we get to Pyin Oo Lwin and drop in a little Night Market for our late dinner. After dinner, continue to Mandalay and arrive in Mandalay around 11:00 pm.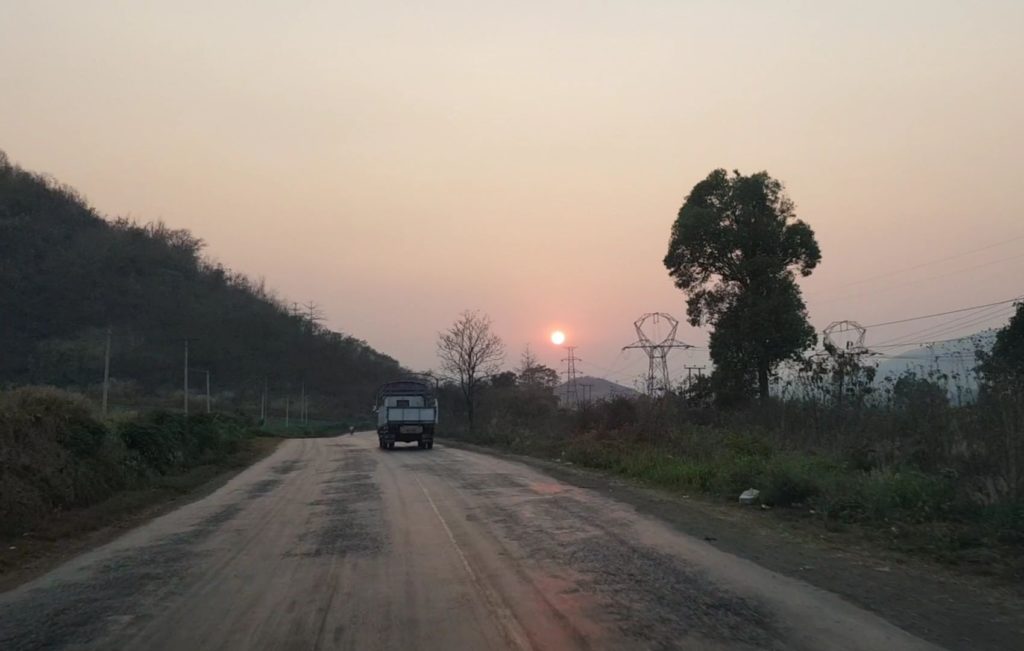 Covering all experiences, I would like to rate Hsipaw trip 10/10. I love every single moments of the trip. So, I highly recommend the Hsipaw trip. If you have more time, spend three days and 2 nights for the trip. It will be perfect and can cover everything. I think I can't recommend enough how nice Hsipaw trip is.
I am sure you want to make a trip to Hsipaw after reading my blog. It will take more or less time depending on your group and kinds of activities. For every single arrangement and customization, feel free to contact our LM Travel Myanmar. We are sure to give you perfect arrangement and wonderful experience .